A European-wide fire-fighting force has helped Sweden to battle an unprecedented level of forest fires this summer. So far, seven fire-fighting planes, seven helicopters, 60 vehicles and over 340 personnel have been offered through the EU's civil protection mechanism, thanks to Italy, France, Germany, Lithuania, Denmark, Portugal, Poland and Austria.
Commissioner for Humanitarian Aid and Crisis Management Christos Stylianides said: "We have been working 24/7 to help Sweden. This is our duty in a Europe that protects and is close to citizens.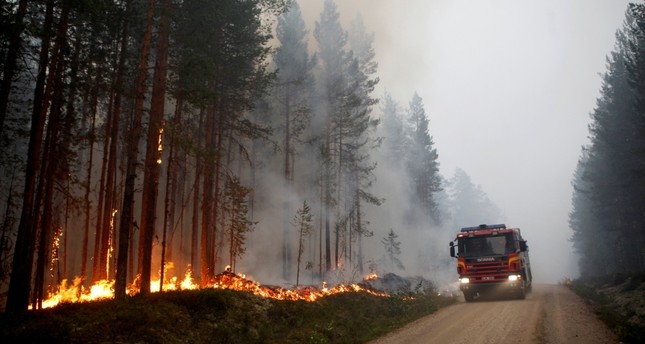 Some 27 fires are currently blazing across Sweden, that's down from 49 the day before. Italy, France and Portugal have also sent water-bombing aircraft, while Norway, Germany and Lithuania have provided helicopters.
The summer has so far been exceptionally hot, with temperatures in large swathes of the country hovering around 30 degrees. Precipitation has also been unusually low, with parts of southern Sweden experiencing their driest summer on record. The Kvikkjokk-Arrenjarka weather station in the far north, on the same latitude as southern Greenland and northern Alaska, broke its record with a reading of 32.5 degrees.
While the fires have destroyed vast tracts of forest and forced forestry companies to halt logging for fear of sparking fires, the heatwave is also causing huge problems for the farming industry. Harvests have been hurt by the lack of rain, and many farmers are now running low on animal feed. Water levels in Sweden's hydro-power dams, which produce half the country's electricity, have also fallen drastically, pushing up energy prices.
The fires have raised questions about the impact of climate change and whether the extreme heat is the new normal. That's raised concerns about Sweden's ability to tackle such crises. The fires, and the government's reliance on outside help, may even become a topic in the Sept. 9 general election. Politicians, including Prime Minister Stefan Lofven, have visited the hardest-hit areas.
Forty-four fire engines from Poland were met with applause when they arrived, with Swedes waving Polish flags as the vehicles drove north before arriving in Sveg in Harjedalen county in central Sweden on Sunday evening, according to local media. "Dziekuje to all Polish firefighters" was the headline in the Expressen newspaper, thanking them in their own language.
Sweden's Forest Agency estimates that some 600 million kronor ($68 million) worth of forest has burned or been damaged by the fires, as of July 19