In the first semester of 2020 (6M-2020) China became the main export market for the Brazilian particleboard / MDP (PB / MDP).
The Asian country with imports of Brazilian PB / MDP for USD 10.89 million surpassed Colombia in 6M-2020 as the main external destination for Brazilian PB / MDP.
The United States was the second most important market in 6M-2020 with USD 10.84 million, and also registered the highest growth among foreign markets for Brazilian PB / MDP with an increase of 124.8 percent when compared to the figure of USD 4.82 million in 6M-2019.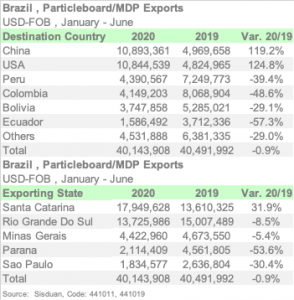 Peru followed in third position with PB / MDP purchases from Brazil for USD 4.39 million in 6M-2020. This figure implied a sharp drop of 39.4 percent compared to purchases of USD 7.24 million registered in 6M-2019.
Colombia was the fourth largest foreign market in 6M-2020 with USD 4.14 million, which represented the largest contraction among the main four destination markets with a drop of 48.6 percent compared to USD 8.06 million registered in 6M-2019.
In total in 6M-2020, Brazilian PB/MDP exports totaled USD 40.14 million. This represented a slight drop of 0.9 percent compared to 6M-2019 when exports reached USD 40.49 million.
In 6M-2020, PB / MDP export indicators show that 2 markets, China and the US, are responsible for more than half (54.1 percent) of Brazilian exports.